IME Course Fee: $75
Wondering if you are ready for the Basic RiderCourse?

Never been on a motorcycle before?

Not sure if riding is for you?
If any of these apply to you, the Introductory Motorcycle Experience (IME) might be a good place to start your motorcycle lessons!
The IME is a taste of riding without a big investment of time or money. It's a great way to "jumpstart" your BRC learning experience!
This "intro" course is just 2-hours long, and the class size is small with no more than 4 participants! The IME is a first-touch experience with a motorcycle and is not designed to teach you all you need to know to ride. It's a familiarization program that points out the primary controls and parts of a motorcycle; how to mount and dismount; how to start the engine. You'll learn how to operate the brakes, throttle and clutch and how to "find neutral". You'll start out operating the controls with your feet down as you "power-walk" on our practice range and then progress to riding with your feet up!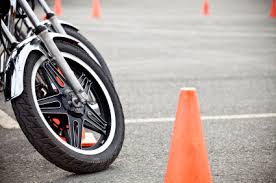 The Introductory Motorcycle Experience (IME) is a way for potential riders to determine if motorcycling is a good personal choice and if they have the key skills needed to be prepared for the Basic RiderCourse.
Introductory Motorcycle Experience (IME) participants should be at least 16 years old, know how to ride a bicycle,  and have a license or learner's permit for either a car or motorcycle. Students under the age of 18 will need to have their parent or guardian's signature on both the New York State Motorcycle Safety Program and Covid Release, Waiver and Indemnification forms. Click here for more details.
---
Go Motorcycling
provides
Motorcycles
Helmets
Eye protection
Course materials
What you need
to provide
Sturdy, non-flared long pants
Sturdy, over-the-ankle boots
(NO SNEAKERS)
Long-sleeved shirt or jacket
Full-fingered gloves
If necessary, rain-gear
Enrolling in a RiderCourse indicates that you have reviewed and agree to our POLICIES.
---