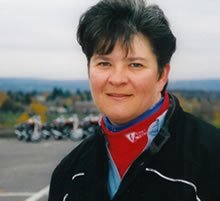 Go Motorcycling, Inc. is owned and operated by Lynne Vandewater.
Lynne received her Motorcycle Safety Foundation and New York State DMV Instructor Certifications in 1991 in New York City.
As the lead instructor at Trama's Auto School in Woodhaven, NY, she conducted both MSF RiderCourses and private, on-street motorcycle instruction, training thousands of riders over a ten-year span. She became an MSF certified Chief Instructor in 1996 and served for several years as MANYS' Educational Training Coordinator, organizing and conducting Instructor/RiderCoach training throughout New York State.
Lynne holds a national certification as an MSF Quality Assurance Specialist and has worked on numerous curriculum development projects with the MSF.  She trains RiderCoaches and RiderCoach Trainers around the country and provides expert witness services on motorcycle safety related cases.
Go Motorcycling, Inc. was established in 2001 to bring quality rider education to the Central New York area. Its first RiderCourse training site was opened at Mohawk Valley Community College in Utica in the fall of 2001. In 2003, an additional training site was added at Jefferson Community College in Watertown. Go Motorcycling, Inc. continued its relationship with MVCC with the addition of RiderCourses at the Rome Campus.
Go Motorcycling, Inc. is proud of its staff of rider training professionals that has been recognized by the New York State Motorcycle Safety Program with a total of seven NYSMSP Quality Assurance Awards in the categories of Compliance, Riding Demonstrations and RiderCoach Excellence.  These highly experienced MSF and NYS DMV Certified RiderCoaches are instrumental in carrying out our commitment to motorcycle safety.  See our courses.