From the Utica Area
Take RT 49 towards Rome
After approx 10 miles take RTE 365/Griffiss/E Dominick St. Exit off of RT 49
Bear Left on the ramp towards Griffiss Tech Park
Keep Straight on Wright Hill Rd. (Rte. 825) for approx. 1 mile (name changes to Hill Rd.)
Turn left onto Floyd Ave
At first light, you will arrive 1101 Floyd Avenue MVCC Rome Campus
Campus is immediately on your right on the corner of Floyd Avenue and Bell Rd.
Thruway (I-90) Directions to the Rome Campus
From the East
Take Exit 32 (Westmoreland)
Turn right onto Rt. 233
Travel approximately 5 miles, then take a right on to Rt. 69
Go a short distance and take a left on to Rt. 365 toward the Griffiss Technology Park
Then take the Griffiss Technology Park Exit and stay straight on the ramp towards Griffiss Tech Park
Stay straight on Wright Hill Rd (Rte. 825) for approx. 1 mile (name changes to Hill Rd.)
Drive way around the roundabout circle and continue straight
At the first light, turn left onto Floyd Ave
At first light on Floyd Avenue, you will arrive 1101 Floyd Avenue MVCC
Rome Campus is immediately on your right on the corner of Floyd Avenue and Bell Rd
From the West
Take Exit 33 (Verona)
Bear right onto Rte. 365 towards the Griffiss Technology Park Exit
Then take the Griffiss Technology Park Exit and stay straight on the ramp towards Griffiss Tech Park
Stay straight on Wright Hill Rd (Rte. 825) for approx. 1 mile (name changes to Hill Rd.)
Drive way around the roundabout circle and continue straight
At the first light, turn left onto Floyd Ave
At first light on Floyd Avenue, you will arrive 1101 Floyd Avenue MVCC
Rome Campus is immediately on your right on the corner of Floyd Avenue and Bell Rd
Rome Campus Map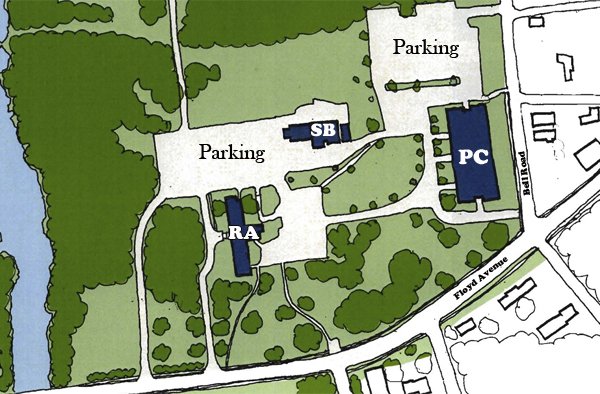 Rome Campus Legend
RA – Academic Building
PC – Plumley Science and Technology Complex
SB – Shop Building